Seed Club is the leading network for DAO builders and operators who believe in a future where communities capture the value generated on the Internet. The Accelerator is the entry point to the network, and we're so excited to welcome the next cohort of innovators to the Club.
The Network as Seed Club's "Secret Sauce"
Tokens give communities superpowers. As we discover these superpowers, we need high-signal and agile sensemaking networks to navigate crypto's high-velocity innovation. Seed Club's defining asset is our unmatched network of alumni, collaborators, and contributors.
The network's value was made clear during the emergent selection process for SC04, where over 65 alumni, collaborators, and contributors stood up the autonymous TomaDAO: a working group assembled for the sole purpose of selecting the next great Accelerator cohort. While we put them in the Telegram group chat together, they identified that chat as a community - and gave it a name. [Why TomaDAO? Stay with us: Accelerator selection process → the network as Seed Club's secret sauce → tomato sauce? → the "Rotten Tomatoes" of web3? → TomaDAO (🍅,🍅).]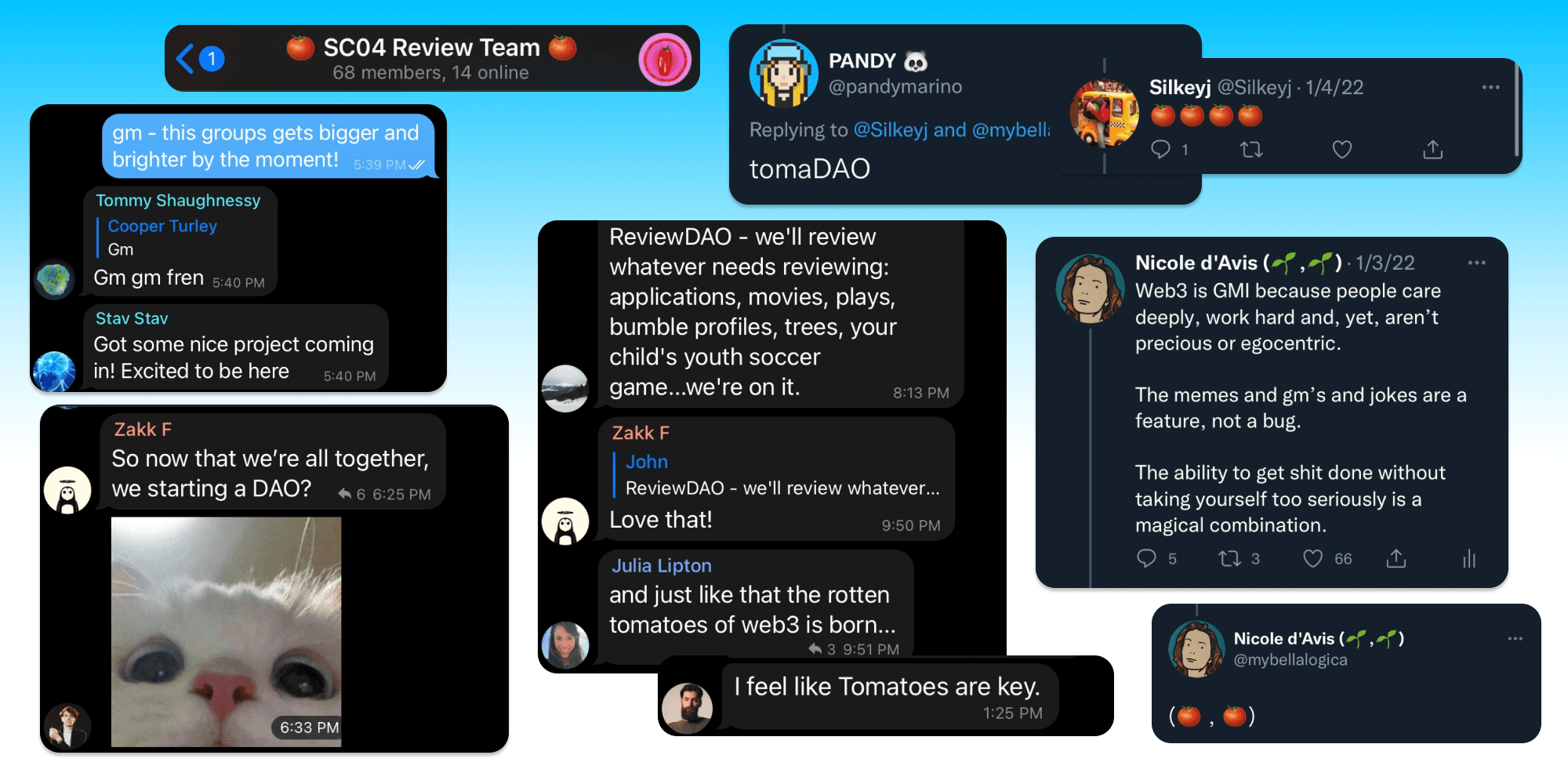 TomaDAO was an experiment in a community-driven selection process. The selection committee engaged in the rigorous work of reviewing and vetting applications, curating a shortlist of applicants for $CLUB holders to vote on. Here's what we learned from our first TomaDAO season:
Collaborators and alumni are eager to lean in.
Collaborators and alumni enjoy being in community. The emergent connections demonstrated the possibility for deeper community-building.
Our most effective selection mechanism to date is the thoughtful and nuanced application reviews provided by experienced builders.
There was information asymmetry between TomaDAO members and $CLUB holders, and we want to integrate $CLUB holders into the process earlier on.
We want more community members involved during the application review process, but how do we thoughtfully scale?
The Next Selection Experiment: $CLUB Holders, We're Looking at You
After we closed SC04, we took an extended break to retro the Accelerator from end-to-end, including our selection process. Over the past three months, the Accelerator working group, in deep collaboration with the Product working group, left no stone unturned exploring ways to improve the selection process for SC05.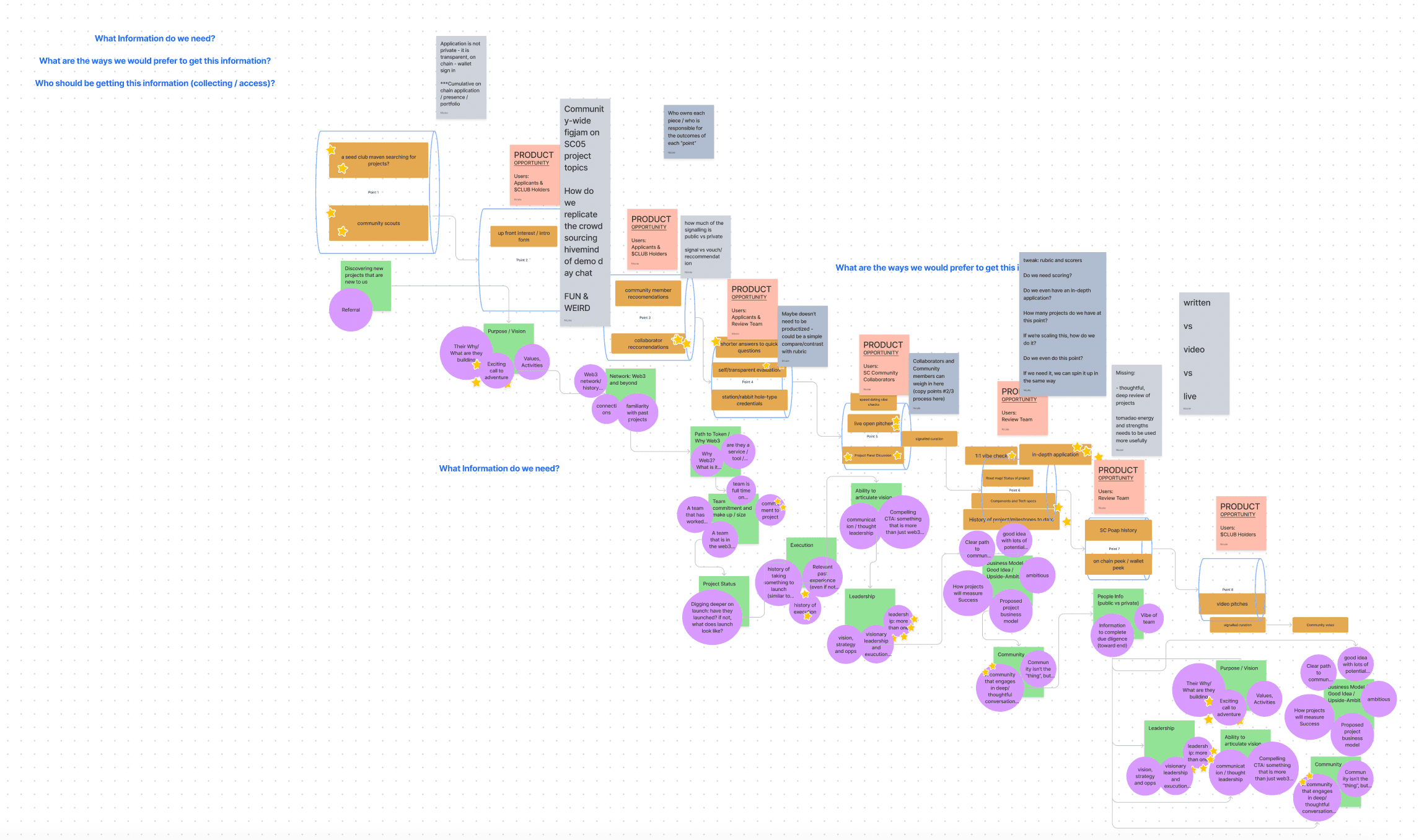 After multiple feedback sessions and design jams, our next experiment emerged – our internal Call to Adventure for the SC05 selection process: scalable community selection mechanisms. We arrived at two critical first principles:
DAO teams have the ability to engage with the community in real time as they review applications. DAO teams want the ability to edit, access, and update their applications.
$CLUB holders have full visibility and engagement on applications. The community participates in boosting and exploring all aspects of the DAO's application to provide informed and thoughtful input. This addresses the previous information asymmetry between TomaDAO members and $CLUB holders.
The result of our break is a two-part improvement for SC05: a refreshed Accelerator experience (more info next week), and refined application and selection processes.
Enter: The Accelerator Portal
Our TomaDAO selection committee is back for SC05, but this time with one crucial differentiator: $CLUB holders now have the same level of application insight, with the ability to review and engage with applicants as they're applying. This is all made possible by The Accelerator Portal, which is intentionally built to serve both Accelerator applicants and the $CLUB community.
Here are the key components of The Accelerator Portal and how it enables a scalable community-driven selection process:
Visible & Comprehensive Applications: The Portal allows applicants to build a more comprehensive profile, providing context to those who need it most: $CLUB holders, fellow applicants, TomaDAO members, and the Seed Club team.
Application Discovery: Submitting an application publishes it to the Portal. The Portal's landing page provides a real-time view of the latest applicants. $CLUB holders discover and boost new applicants as they apply.
Boosts & Comments: Each applicant profile integrates boosts and comments. Boosts are a way to signal community excitement for potential cohort members. The comment section is a way for $CLUB holders to gather more information and/or send some love. Applicants respond to comments in real time, and make adjustments to their application if they choose.
Three-Phase Selection Process
The selection process for SC05 occurs over three phases:
Phase 1: Applications - 8/1 to 8/15

Applications for SC05 open on August 1, submitted via The Portal. Applicants respond to comments in real time, and make adjustments to their application through August 15 if they choose.

Phase 2: Community Input - 8/1 to 8/22

$CLUB holders and the Seed Club team review the applications as they're submitted. Reviewers boost up to 20 applications and continue using the comment feature to ask clarifying questions and/or send some love.

Phase 3: Interviews - 8/22 to 8/26

The TomaDAO selection committee creates a shortlist of the most promising applicants based on community input. These applicants advance to the interview round. Cohort acceptance letters go out on September 12, with the public announcement to follow.
Sensemake With Us
Each time we run this process, our network grows, and becomes more interconnected, more opinionated and more engaged. The selection process is just the beginning of the long journey we commit to with each project we bring into Seed Club. We are entrusting you, our community, with the responsibility of sharing thoughtful, constructive feedback and asking questions that help projects improve and tighten their applications. We are eager to engage many of you in this next round of experiments, to learn from your insights, and to be inspired to find even more ways to engage and collaborate with you in the future.